Who We Are
Point People for Transformation
"We are learning through our collaborative work that illness and health are not simply emotional or physical, but a complex weave of many systems, emotional, spiritual, physical, and environmental; that healing incorporates body, mind, and spirit, which are not after all, separate parts of a person, but separate lenses through which to view the wholeness of a human being. Truly holistic health requires more than vitamins and herbs; it requires a holistic approach to healing and to our understanding of health." - W. Hunter Roberts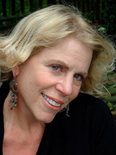 W. Hunter Roberts
Who is W. Hunter Roberts?
Point Person for Change
W. Hunter Roberts combines the best tools of intellect and intuition to turn her clients' dreams into reality. She has dual masters' degrees in Divinity and Social Work, giving her a broad platform from which to listen and respond to her clients, spanning from the social to the spiritual. She uses with a wide range of therapeutic modalities, (including right-brained, guided imagery techniques, art, Jungian-based dream work, personal ritual, numerous body-based and emotive techniques, psychodrama, and cognitive analysis) to deal with issues from anxiety and depression to career transition. She also uses her skills in project design and development, and hard-nosed coaching for results, to assist her clients in designing and planning their lives so that they can live their dreams. While working and holding ground for deep process, Hunter never loses track of the desired results. In fact, she guarantees them. She has been practicing in the Bay Area for over fifteen years, and has hundreds of satisfied, successful clients doing great things in the world.
Additionally, Hunter Roberts is a transformative artist, author, and facilitator, grounded and educated in creative mythology, process theology, and the theatrical arts. She has spent the past twenty years researching and developing the use of ceremony, therapeutic modalities, myth, and symbol in a variety of settings, from television studio audiences to concert venues. She has published a book, popular articles, and academic papers on the application of experiential techniques to the transformation of post-modern consciousness. Her experience ranges from developing and producing nation-wide community gatherings that helped to alter the history of the nuclear arms race, to teaching nature-based theology, myth and ritual at the Graduate Theological Union and co-authoring a ritual rock opera telling the story of evolution. An authority in experiential learning and change, Wendy Hunter Roberts has been listed in Who's Who in American Entertainment, Who's Who in American Women, and 2000 Outstanding Scholars of the 21st Century. She sees clients in Berkeley, Marin County, San Francisco, and Los Angeles.
To contact Hunter directly please call her office at (415) 459-3000
or email at: home@transarts.com
Hunter's Personal Background
Who Are the Associates?
Holistic healing requires that we adopt a model of interdisciplinary cooperation among practitioners who look not just at their own area of specialty, but at how each system interacts synergistically with all the other systems affecting a person's well-being. Like blind people examining an elephant, I "see" the trunk while another practitioner "sees" the tail. By working together, we can put together a more complete picture of a whole human being. I work cooperatively with nutritionists, various kinds of body workers, time management coaches, financial consultants, Chinese docs, homeopaths, and even an occasional M.D., to provide a complete program for our clients' recovery and reinvention. It's amazing to see the results we get when we are working from all angles!
Physical Health and Well-Being
Michael Gandy and Margaret Shockley at East West Healing Arts work on the cutting edge of functional and energetic medicine, using Chinese herbs, nutrition, and much more to increase vitality and well-being in their clients. www.livelongerlivestronger.com
Edi Mottershead uses classical homeopathy to address the complex energetic systems of physical and emotional dis-ease. www.edimottershead.com
Diana Somps CMT, structurally reorganizes and rebalances your body, returning it to a pre-injury state using anatomically state-of-the art techniques developed by Loren Berry and Integrative Manual Therapy.
Money and Business
Alexandra Cock, JD, RIA, of Wealth Plus Inc. is a financial management consultant and master prosperity teacher, who helps her clients increase and mobilize their assets to finance their dreams.
Jim Horan is a CFO, business planner and author of The One Page Business Plan, who helps businesses plan and grow for success. www.onepagebusinessplan.com
Darel Rutherford is a self-made millionaire, prosperity coach, and author who teaches the spiritual practices of BE-ing rich. www.richbits.com
Transpersonal and Somatic Adjuncts
Glenn Hartelius, developer of Attention Dynamics, maps inner subtle states, using the body's own sensate experience to access the self and soul.
Anne Hatfield of Healthy Results, does shamanic healing, counseling, and soul retrieval, bringing the grace and healing power of the spirits to restore wholeness and a deeper connection with the web of life.
David Jenkins, Ph.D, works with dreams, using his own breakthrough method, which reconfigures the iconography of your unconscious life. www.practicaldreamwork.com
Anodea Judith, Ph.D., author and lecturer, combines somatic psychology with chakra balancing in her classes and trainings. www.sacredcenters.com
Relationship and Personal Growth Seminars, Training, and Coaching
Celebrating Men, Satisfying Women gives women a whole new view of men, and the nuts and bolts secrets to creating partnership, love, and fun with them. www.celebratingmen.com
Fay Freed and Ron Landsman, successfully married for 10 years, teach classes and coach couples how to communicate so that women are fulfilled and everyone wins!
Landmark Education produces trainings that enable people to be powerful and effective in the areas of their lives they care most about. www.landmarkeducation.com
Mark Lewis is an Neuro-Linguistic Programmer and master coach in unconventional and ground-breaking approaches to relating. www.relationdancing.com
Justin Sterling and the Sterling Institute of Relationship give kick-ass trainings in how to have successful relationships with the opposite sex. www.sterling-institute.com
copyright © 1996-2004 by W. Hunter Roberts